Flag Star BETHESDA
It's hard to express how excited we are for this. After an awesome inaugural season, we're picking up steam in a huge way. Onward! Upward! Forward!
For those of you who don't know us: our league is made up of supportive parents, high-energy coaches, and referees who control the game without losing sight of the mission.
And our mission is simple: Get Better. Have Fun. Create a low-pressure opportunity for kids to run around and compete. Include everyone. Ball.
K-7th Grade -- everyone is welcome. Yourself included. As long as you're committed to building on this culture, we'd love to have you on the team for next season.
FALL 2019 -- THE QUICK HITTERS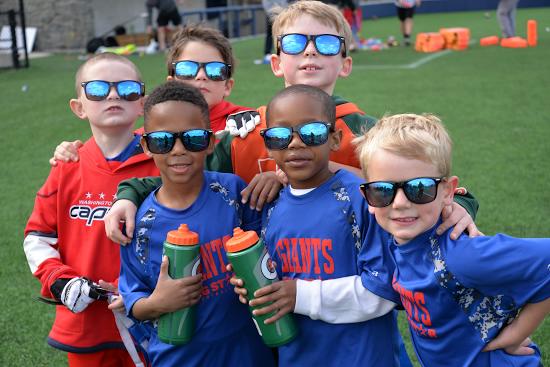 Who: K-8th Graders. Boys and Girls
Where: Landon | Academy of the Holy Cross
When: Saturdays* only. Sept 21st - Nov 2nd (7 Weeks; K-1: 6 Weeks)
K-1st: 9:30am - 10:30am

2nd-3rd: 10:30am - 12:00pm

4th-5th: 12:00pm - 1:30pm (occasional 10:30am or 1:30pm start)

6th-7th: 1:30pm - 3:00pm
PLEASE NOTE: Times are subject to change/vary based off final field permitting/number of teams.
Cost: K-1st: $135 | 2nd-8th: $170 (Parent-Coached); $245 (Pro-Coached)
*Free and reduced lunch = Free and reduced registration. Please ask us about Scholarships.*
Register Your Own Team
Want to register your own team? If you have a group of 4+ kids who'd like to play together, please click below:
Check below for our Frequently Asked Questions. If you have a question that's not on that list, drop us a line and let us know!
Get Better. Have Fun. Let's Rock!
FREQUENTLY ASKED QUESTIONS
*E-mail Carl (Carl@flagstarfootball.com) with any other questions
Can I register an entire team?
Yes. We'd prefer that. If you have a group of players you'd like to register, e-mail us directly (carl@flagstarfootball.com) and we'll create a personalized registration page for your crew!
Even if you only have 4-5 kids, drop us a line. Creating your own registration page helps make sure we place you all together!
But I don't have an entire team! Can I still register to play?
Yes. Priority placement goes to pre-formed teams, but we do accept "free-agents": players who register by themselves or with small groups of friends.
When you register, list your friends names or indicate your "free-agent" status under "team preference." We'll place you all together and work hard to find you a team.
When do the boys (and girls!) practice?
Practice time is built into our Sunday schedule. For the 2nd-7th graders, there's a half hour practice window before the game begins. This half-hour gives coaches the chance to run drills, draw-up plays and put them immediately into play. K-1 is a little different (see below).
We've used this format for years now. It's by far the most effective use of players' time (and attention spans!).
Isn't K-1st Grade a little young for flag football?
No way! Our K-1 divisions end up being the most fun. They're a mad-house, but we have plenty of coaches, referees and volunteers to keep the program on track.
Their hour-long sessions will be divided between drills, stations and games. In the first couple weeks, we'll take a little bit longer with the drills and play relatively shorter games.
As the season goes on and the teams learn the structure, we'll cut back on practice time and extend the game times to ~30-40 minutes.
My child isn't the best athlete and he's never played flag football. Will he be left behind?
Absolutely not. Bring us your outgoing and your shy. Your great athletes and your children with two left-feet. Flag Star Football welcomes all kids who want to participate!
Our league is designed for every level of experience and every level of athleticism. A good portion of our players are football-fanatics, but just as many are first-time players. They're kids who haven't shown interest in sports and need something to get them out of the house. All are welcome.
Should I choose the parent or professionally coached team?
That's entirely up to you. Both are great. The majority of parent-coach registrants have a specific parent in mind, so they know who'll be coaching their team. If you want the parent-coached option but don't have a team, we'll try to place you on a roster when registration closes.
Pro-coaches are people we hire and train. They're usually in their mid-to-late twenties, former athletes, and passionate about sharing their love for the game.
Neither option is better or worse. We monitor our pro-coaches a little bit more closely, but you can expect all coaches to bring positive, constructive energy to the field each week.
Where exactly will you play?
We are, as always, fighting for field space. Sometimes we don't know our field assignments until weeks before the season.
We do make this promise, though: if you register and end up unhappy with the field location, you can withdrawal from the league with a full refund. We don't anticipate fields being a problem.